The American Society for Quality (ASQ) conducted a salary survey of all its members. ASQ members work in all areas of manufacturing and service-related institutions, with a common theme of an interest in quality. Manager and quality engineer were the most frequently reported job titles among the valid responses. Master Black Belt, a person who takes a leadership role as the keeper of the Six Sigma process (see Section 19.6) and Green Belt, someone who works on Six Sigma projects part time, were among the other job titles cited. Descriptive statistics concerning salaries for these four titles are given in the following table: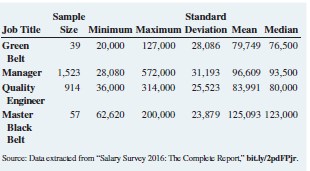 Source: Data extracted from "Salary Survey 2016: The Complete Report," bit.ly/2pdFPjr. Compare the salaries of Green Belts, managers, quality engineers, and Master Black Belts.
Transcribed Image Text:
Sample Standard Job Title Size Minimum Maximum Deviation Mean Median Green 39 20,000 127,000 28,086 79,749 76,500 Belt Manager 1,523 28,080 572,000 31,193 96,609 93,500 Quality Еngineer 914 36,000 314,000 25,523 83,991 80,000 Master 57 62,620 200,000 23,879 125,093 123,000 Black Belt Source: Data extrackd from "Salary Survey 2016: The Compkt Report," bitly/2pdFPjr.