Question: Do social recommendations increase ad
Do social recommendations increase ad effectiveness? A study of online video viewers compared viewers who arrived at an advertising video for a particular brand by following a social media recommendation link to viewers who arrived at the same video by web browsing. Data were collected on whether the viewer could correctly recall the brand being advertised after seeing the video. The results were as follows: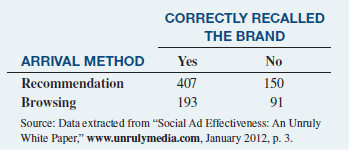 a. Construct a side-by-side bar chart and a doughtnut chart of the arrival method and whether the brand was promptly recalled. b. What do these results tell you about the arrival method and brand recall?